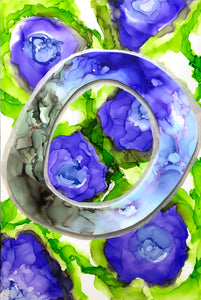 (SOLD) Suffering, Surrender and Salvation
(SOLD) 24" x 30" original mixed media on panel. Please read below for the inspiration behind this meaningful piece. 

This piece was created as part of the Brushes with Cancer program, a non-profit that provides a therapeutic experience for cancer patients by pairing them with artists who interpret their cancer story into a work of art. This is my piece honoring Katie. 
Artist Statement:
In my first conversation with Katie, she claimed that she knew why we were paired together — there was something I had said about letting go of control and surrendering in my painting process that was the same sentiment she felt when cancer entered her life and changed her plans forever.
Getting to know Katie these past few months has been effortless. Our calls and visits would fly by and her stories of courage, faith and perseverance have been unfathomable and inspiring. Elements of her story immediately rose to the top that I knew I wanted to incorporate into her piece. For example, I was struck by the paralleled visual resemblance of tethered Neuroblastoma nerve cells to that of an interconnected community of family, friends, and doctors coming together to support Katie through her illness. This is symbolized in the background layer of purple shapes connected by green strands, their double meaning illustrating the best that rose out of the worst of circumstances.

Overseeing and eclipsing all of this, is Katie's faith, symbolized in metallic. She repeatedly went through what she called a "Cycle of Suffering" where she would find herself at low points, be it from inconclusive tests results, painful side effects, or ineffective treatments, only to surrender to God, who would then always provide relief and healing in some way – just not necessarily in the form she had originally imagined. Her ongoing cycle of suffering > surrender > salvation is represented by the continuous circular gradation of black to lavender to purple.
After a 3 year journey and recent remission status, cancer is hopefully forever behind Katie, but her lessons of surrender over control will undoubtedly influence her course ahead, as well as those around her, myself included.