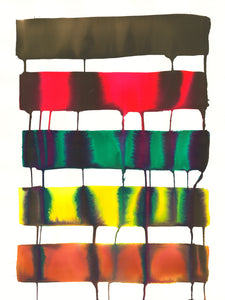 "Road to Alignment: Mile 21" Print
Regular price $44.00 Sale
INSPIRATION //
Living from a place of intention, intuition and honoring your inner voice is a process, a messy road without a map, or even a promise of arriving at your desired destination. This collection was inspired by my own efforts to have my actions, words and experiences more aligned with my inner truth. The compositions feature color bars symbolizing step by step, action by action, coming into alignment, while the pigments blur, react and drip, alluding to the messiness of life and self progression.

Fine Art Paper Details // Printed on 300gsm, 100% cotton rag textured fine art paper. 100% archival. Size reflects printed image printed to edge. 10-14 day delivery timeframe, free shipping on paper prints.
Canvas Details // 65% Cotton 35% Poly blend Satin Canvas with added UV Protection and moisture resistance. Gallery wrapped with 100% wooden stretcher bars with a depth of 1.25". Edges are printed as mirrored reflections of artwork. Comes wired and ready to hang. 2 week delivery timeframe.
Made to order. All custom sales final.